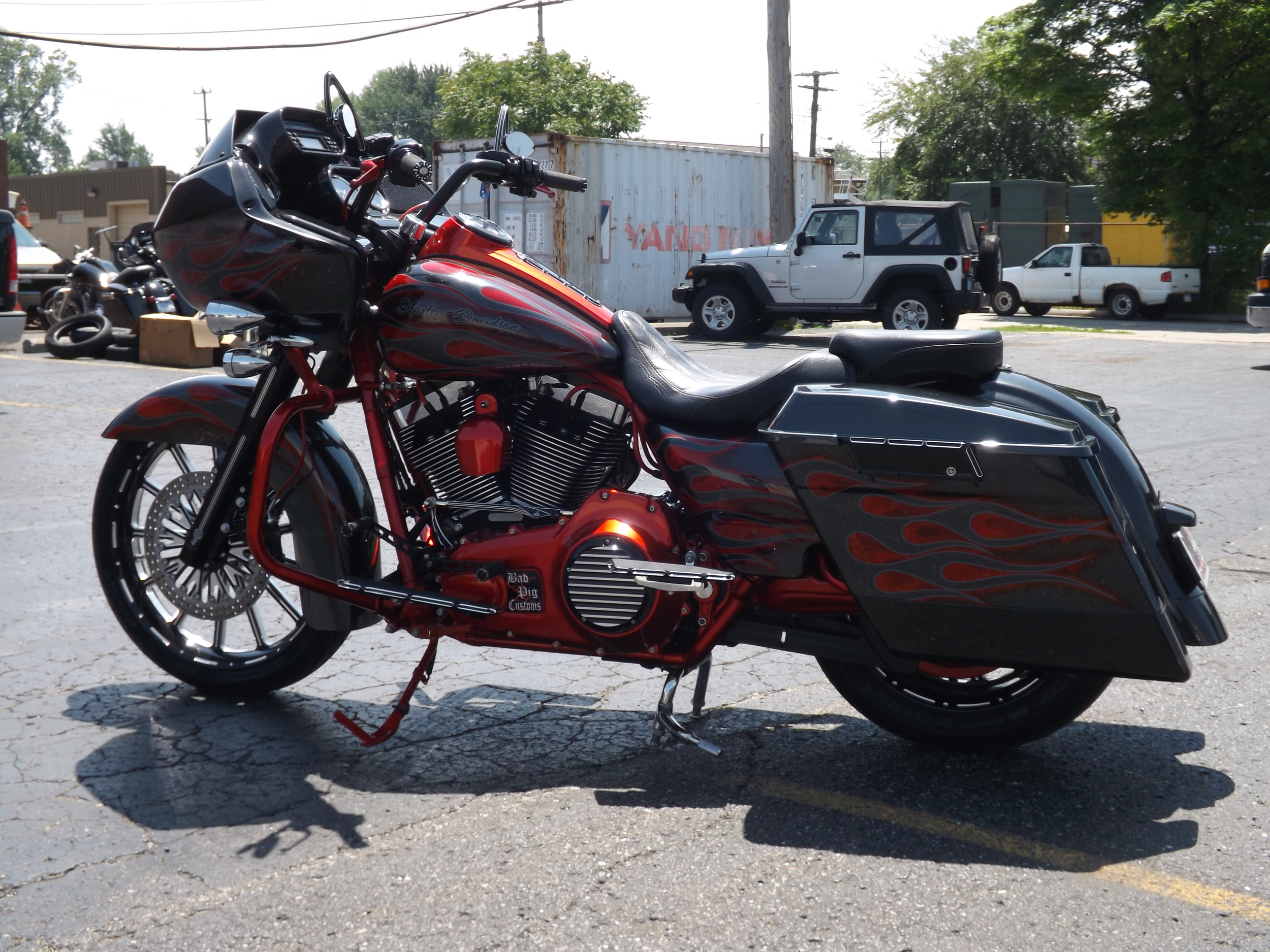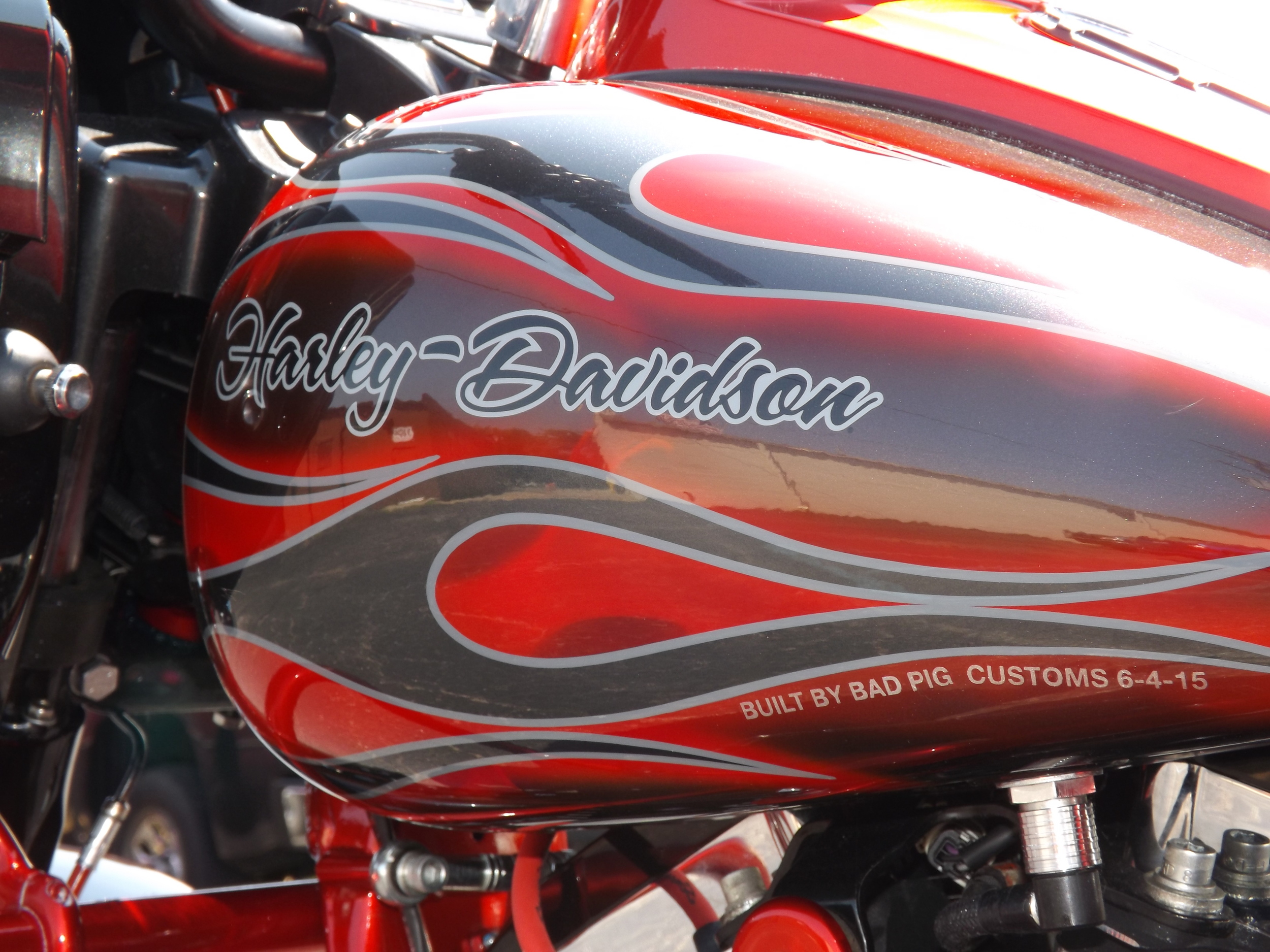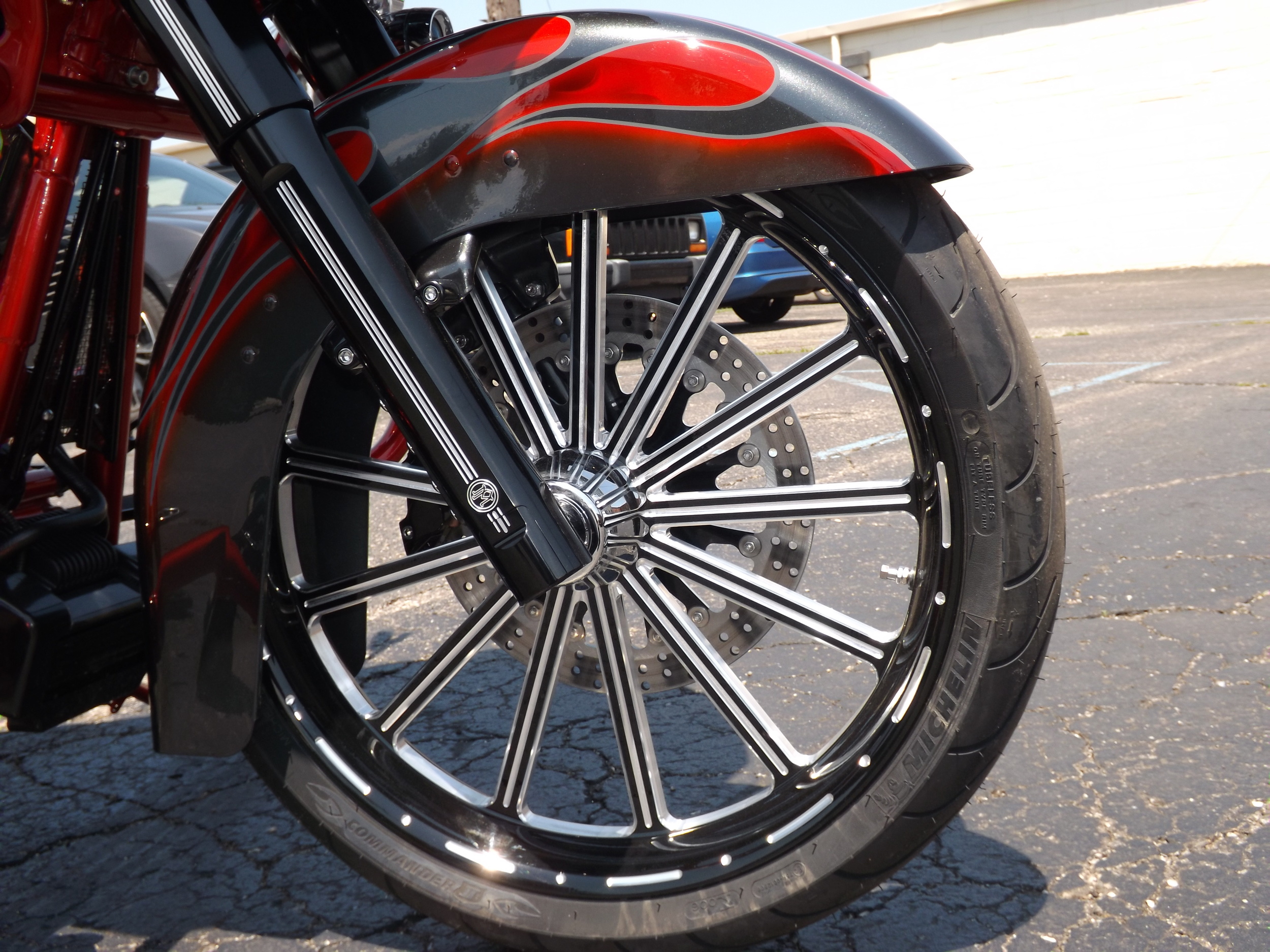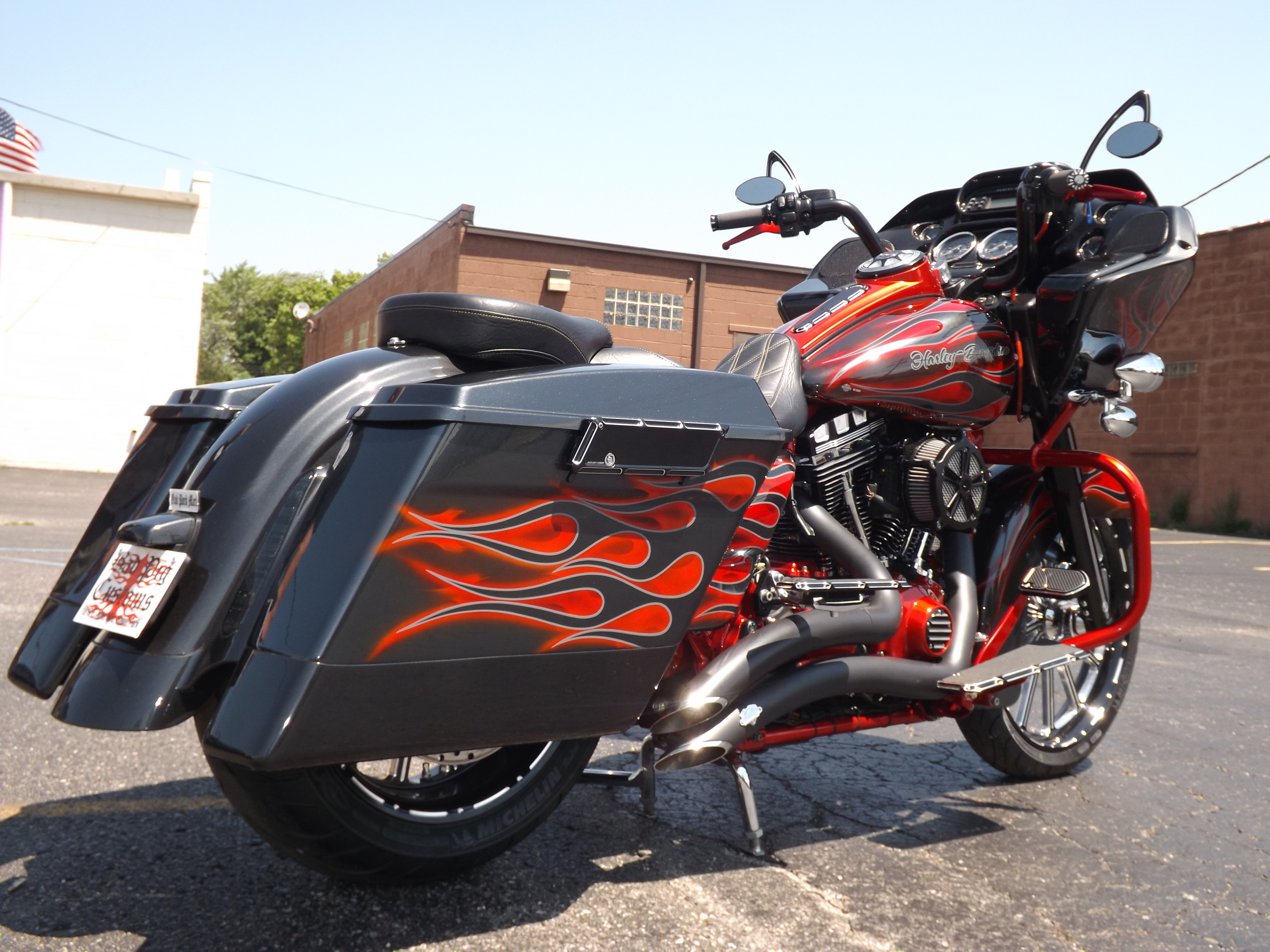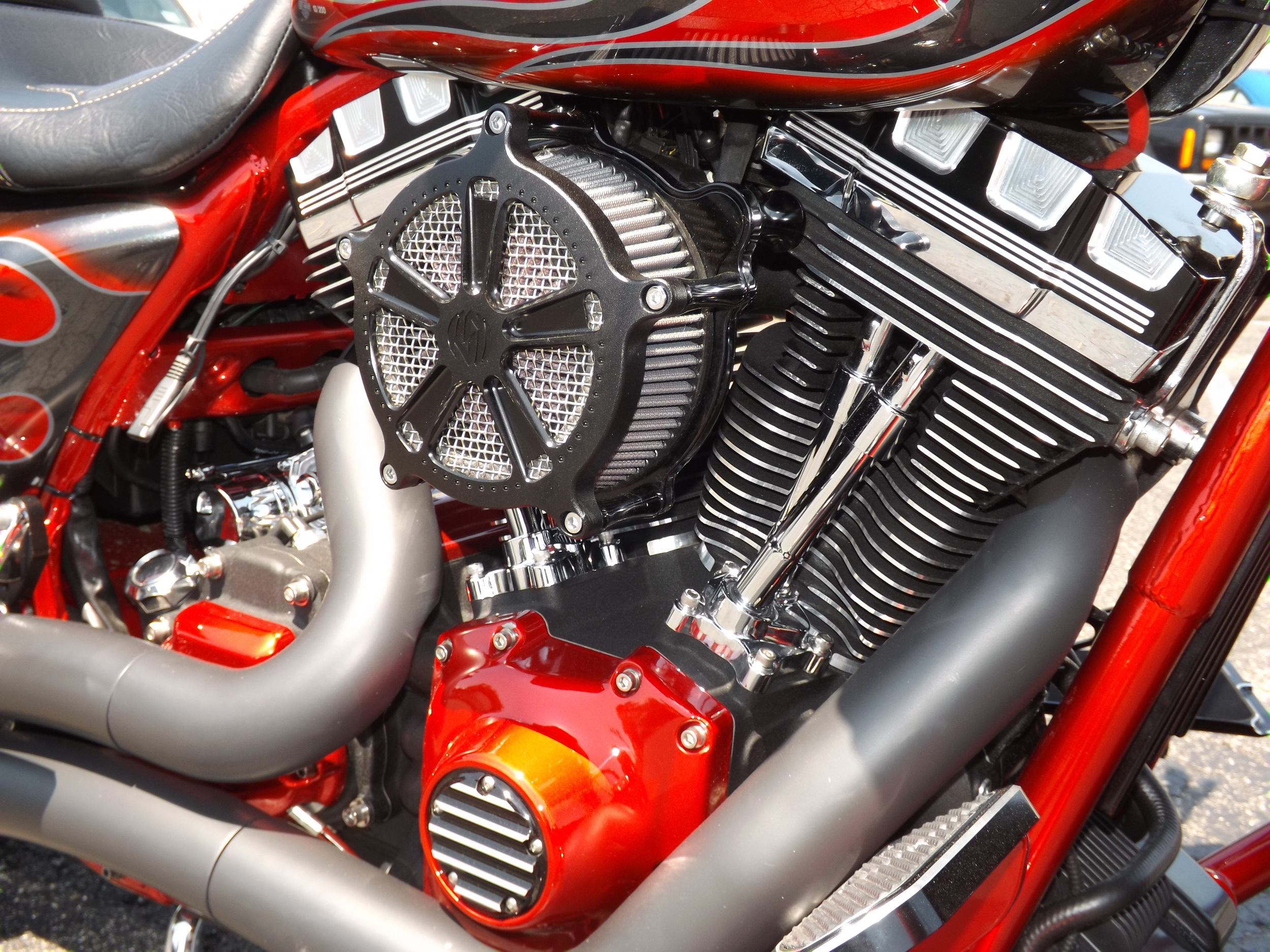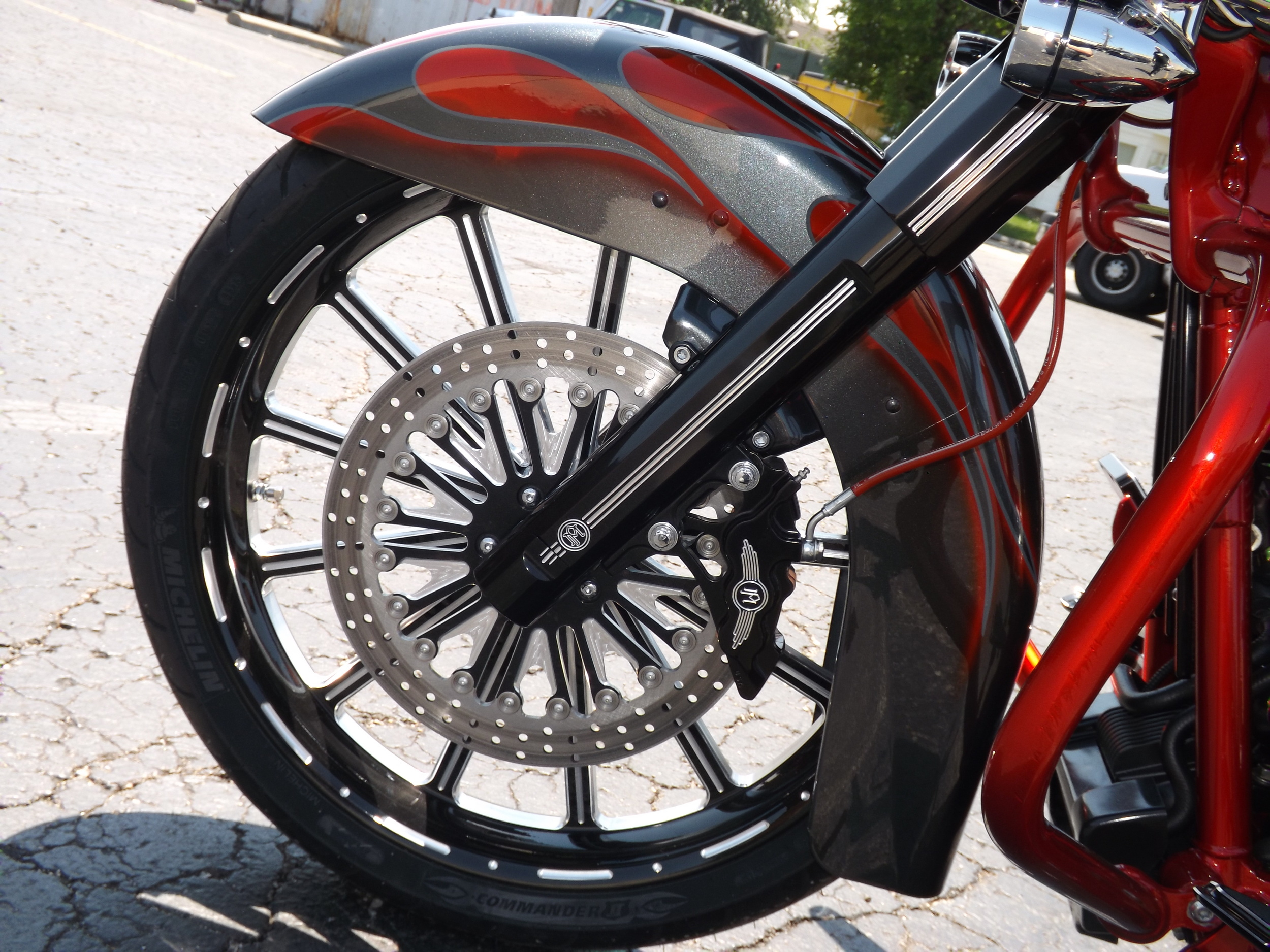 We had originally purchased this paint set with the intent of reselling it later on for some quick change but as luck would have it we were approached to participate in a bike build off. The build period stated at the end of March with the deadline being Saturday June 6th the day of the show.
The paint set on the bike is by Gunslingers Custom Paint. They are the guys who do Harley's custom paint work. The paint set is called the Five Alarm. We got our hands on this set brand new still in the boxes from a dealer that was bought out.
The motor and transmission in the bike were bought brand new from Harley dealers. The motor is a 103 C.I.D. and was purchased from Motor City Harley Davidson. The transmission case was bought new from Brighton Harley-Davidson while the actual gear set was a brand new take out Harley gear set bought from Baker Drivetrain.
The front end is all from Performance Machine and the wheels are from DNA. The fork slider, fork cans, caliper and rotor are all PM's contrast cut collection. The wheels are called "Thirteen" from DNA and are also contrast cut. We had the frame and most of the engine covers and other little pieces powder coated to match the red in the sheet metal.
While we didn't win the show (2nd place) people loved the bike and we got a lot buzz from it and overall it was a great time and we loved every minute of it.
Below is a list of all the accessories and other extras we put on the bike.
Arlen Ness
Beveled Fusion Series Fuel Door, Dash Insert Black Driver Floorboards, Passenger Floorboards, Footpegs, Brake Pedal, Mirrors, and Shift Pegs.
Roland Sands Designs
Venturi Air Cleaner Slam Black Ops and Chrono Grips Contrast Cut.
Harley-Davidson
Daymaker LED Headlight, Titanium Faced Gauges, Burst Collection Rocker Box Covers, Screamin' Eagle Spark Plug Wires, Oil Cooler, Hydraulic Clutch and Display Stand.
Battistinis
Wireframe Body Grille in black.
Figure Machine USA
Classic Derby Cover and Timing Cover.
Carl Brouhard Designs
Triangle Shift Rod and Elite Shift Arm.
Kuryakyn
Fairing Mounted Driving Lights and Turn Signals with LED Lights.
Progressive
Touring Link Chassis Stabilizer.
Arc Audio
Speakers.
Dan Worth Motorcycle Paint
Bag Extensions.
Silly Fast
Custom Brake and Clutch Lines.
Ultima ThunderFire
1.75kw Chrome Starter.